The past week has been a
blur
of trailers, paint, pizza and cardboard boxes. Not necessarily in that order. Those among you who are in the loop may remember that we were to pick up the keys to our new home last friday (July 14).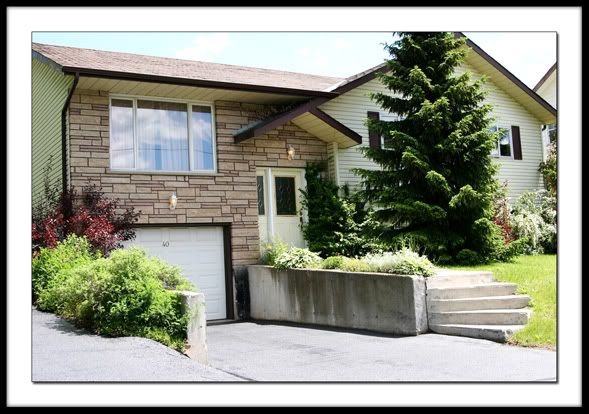 I however, had a wedding in the afternoon (shout out to Carly and Bradley!) and wasn't able to pick up the keys from the lawyer, so all was to be left to Rob to make the arrangements and be the first one to step foot in the new abode. However, life has a way of kicking you in the 'nads when you least expect it, and Rob was sent away on a brief (?) sojurn to a town in Quebec. Needless to say, it was not the most opportune time for him to be away, and it left a whole bunch of the packing and moving to yours truly....and I must share with you that physical labour isn't really my strong suit.
Fast forward to today, a mere 6 days later, and life is looking mighty sweet. With the help of a rag-tag gang of friends and bosom buddies, the new space is looking more and more like...dare I say it? Home. :) We've humped 3 truck and trailer loads, and endless numbers of carloads back and forth, and now there isn't much left that isn't a) nailed down or b) heavier than an elephant. The photography contingent was keeping the art alive for days of painting and (photo) shop talk (Thanks Jen and Jenna!!!) Olivias new bunk beds arrived today and were set up by the trusty delivery dudes from Leons. They were terribly vague when I tried to pin them down for a delivery date for the sectional we ordered over 8 weeks ago. Apparently we won't be reclining on the attched lazy boys for several more weeks at least. I am dutifully sticking pins into the voodoo doll of Sally the saleswoman, who was quick to take the money, but not-so-quick to deliver the product. Anyway, I digress. The girls rooms are nearly set up, the kitchen and bathrooms are unpacked, and I have left an entire garage of empty space for Rob to fill up as he sees fit. He will be so pleased when he (finally!) returns tomorrow and gets to check out our new home.
So come Sunday, (Official Moving Day) y'all will find me hunkered down on a lawn chair, sipping from my pitcher of 'ritas and barking orders. The only thing I'm going to be lifting is my drinking arm. ;)