I wanted to share this one with my blogging friends, because I just love the way it turned out. Sometimes, the things we plan don't always turn out exactly the way we had expected, and something different happens. How we deal with the differences is really more important than the fact that things didn't go the way we thought they would. A couple of weeks ago, I had scheduled a beach session with Wendy and her family, and throughout the day it looked like we would have to cancel, as the rain poured down. Quite surprisingly, everything cleared up in time for us to head out for some family photos at the lake. When we got down there, it became obvious that the fog was rolling in pretty heavily and that wasn't going to be good for our photos. We decided that we'd try to snap off a few 'non-traditional' family photos, just for fun, since we were there anyway. Here's one of them, and honestly, it's one of my favorite family photos ever.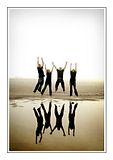 It just goes to show that if you are open to different possibilities, you sometimes get something even more amazing than what you had originally planned. I am so thankful that it was foggy that night. and that Wendy and her family are not afraid to try something a bit different. :)
Here are a couple more, a little more traditional, from our session.