Well, it was a big show, folks! A very, very big show...and it was great to meet all of the brides of 2007 and 2008 who stopped by the booth to say hello and to talk about their dates. I am almost completely booked for the entire wedding season this year, and only have 3 Saturdays open between May 1st and November 1st. This year also marks a record number of off season and Friday or Sunday weddings as well. It's going to be a crazy wedding season, and I have so many great couples that I'm going to work with, so I'm very excited. This year will mark a year of learning from the best of the best in the wedding industry, and I am looking forward to the exciting season ahead!
ETA: To the June 28th bride from the bridal show...I've had another request for your date, so if you are interested in booking that date, I will need to hear from you in the next few days! :)
I must make a public THANK-YOU to one of my 2007 grooms, who hooked me up with the nicest display EVER!!! I have mentioned Brian before in my blog, when I photographed the wedding of his daughter
Heather
. Brian and I have no problem letting the hours slide away when we start talking shop, and he truly amazes me with the sheer amount of cool gagetry and equiptment he has in his arsenol. There is literally nothing I could imagine that he doesn't have tucked away somewhere in his world (unless I have borrowed it from him and am keeping it hostage in my closet, lol). When I started to dream about my bridal show display, he turned my idle ramblings into a concrete reality. I printed the photos, but that is all I did. Brian got the mattes, measured and cut each one, and divised an appropriate way to hold the thing together. I still cannot believe the amount of trouble he went to to put it all together for me. I am absolutely humbled at his committment to getting it done, and doing it right. Brian and Deb are getting married on April 14th, and I am very much waiting for my chance to show him my appreciation.
For those of you that didn't get a chance to see Brians handiwork up close, here's a few snaps from the show...
The whole table and display in behind: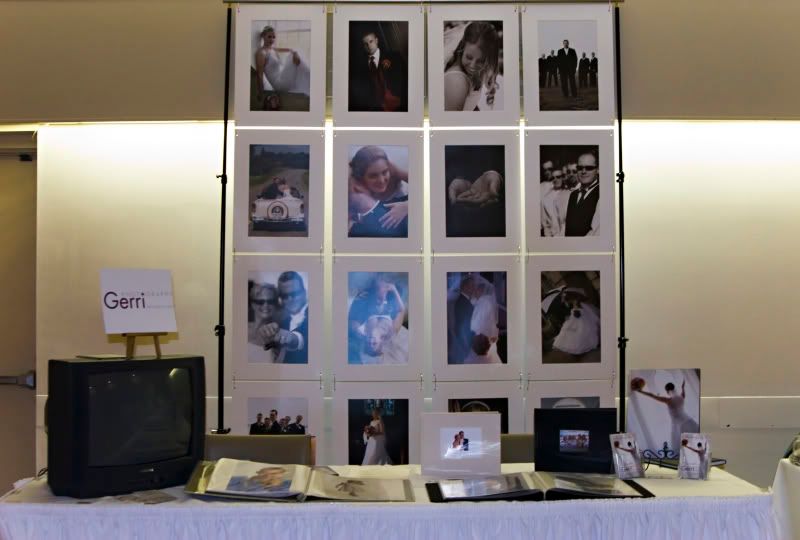 Closer shots of the display: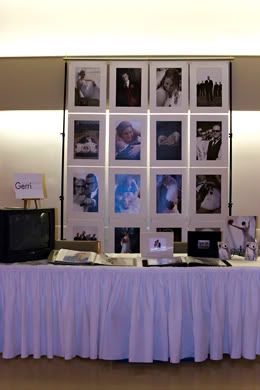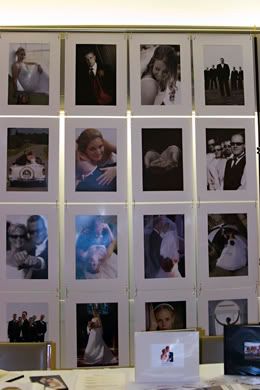 So to you, Brian, I say: 'Thank You' and 'Well Done'!!! :)